LIFE
Wesleyan University
The Student Investigative Journalism Workshop will take place on the 360-acre campus of Wesleyan University in Middletown, CT. Founded in 1831, Wesleyan is a private coeducational liberal arts college with about 2,700 undergraduates and 200 graduate students during the school year. Click here for a campus map.
Classrooms
Workshop sessions will typically take place in classrooms in newly renovated Wilber Fisk Hall, a building just off the campus quad named after Wesleyan's first president. The classrooms are air conditioned.
Housing

During the workshop, participants will stay at the 200 Church Street residential hall near the center of the campus and within easy walking distance of the quad, workshop classrooms, dining hall, library and the athletic complex. Student rooms will be typically doubles. Bathrooms are shared among rooms.
Although temperatures in Middletown in mid-June are usually relatively comfortable, students are welcome to bring fans with them as there is no A/C in the residential hall.
Click here for more pictures of the inside of 200 Church Street.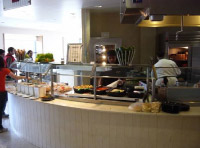 Meals
Wholesome breakfasts, lunches and dinners will be served to workshop faculty and students at The Marketplace, the central dining facility in the Usdan Center, the new campus union that opened in the fall of 2007. Meal options will always include vegetarian. Although options are more limited during the summers, click here for a sense of what will be cooking during the workshop.
Recreation
During their free time, students will have access to the Freeman Athletic Center - open 7AM to 7PM during the summer.
Recently renovated, the Athletic Center includes a 50-meter swimming pool, a skating rink, a 1,200-seat gymnasium (basket ball courts), the 7,500-square-foot Andersen Fitness Center, an indoor track and squash courts - among other facilities.
Click here for a virtual tour of Wesleyan Athletic Facilities.
Library
Students are free to visit the Olin Memorial Library, which has more than one million volumes. Enlarged last in 1992, the library contains Special Collections & Archives on and is a U.S. Government Document Depository. The first floor has computer labs and large light-filled reading rooms that overlook the campus quad. Click here to visit the library website.
Middletown, CT
Only about 100 miles from both Boston and New York City, Middletown is situated along the Connecticut River in south-central Connecticut, just south of the state capital Hartford. Population about 45,000, the town includes bustling Main Street, a riverfront park, public library, community arts center, playhouse, children's museum, and many popular restaurants, cafés and eateries.
Restaurants
http://www.middletowndowntown.com/guide/display.asp?urlID=108
http://www.wesleyan.edu/about/restaurants.html http://maps.google.com/maps?oi=map&q=Restaurants+Near+Main+Street,+Middletown,+CT
Lodging
http://www.wesleyan.edu/about/lodging.html
http://www.google.com/search?hl=en&sa=X&oi=spell&resnum=0&ct=result&cd=1&q=hotels+and+hotels+near+
middletown,+ct&spell=1